White Chicken Lasagna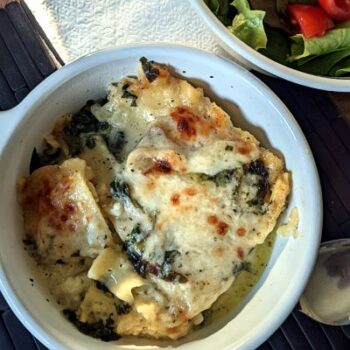 The height of comfort food--pasta, chicken, lots of cheese, spinach, and a delicately-spiced, creamy sauce.
On mobile? Click "Listen in browser".
Difficulty Level
Easy
Hard
Needed Items
Durations
30 minutes hands on
45 minutes baking time
15 minutes cooling
Total time: 90 minutes
Ingredients
9 lasagna noodles
1 onion
4 Tbsp butter (1/2 stick)
1/3 cup all-purpose flour
3 cups chicken broth
1 cup heavy whipping cream
5 oz fresh spinach
1 1/2 tsp salt
1/2 tsp pepper
4 cloves garlic
15 oz ricotta
1 egg
2 Tbsp fresh parsley, chopped
1/4 cup grated parmesan cheese
3 cups shredded mozzarella
1/8 tsp nutmeg
2 tsp Penzeys Tuscan Sunset...
...OR...
1/2 tsp dried basil
1/4 tsp dried oregano
1/4 tsp dried thyme
1/4 tsp ground fennel
1/8 tsp pepper
1/4 tsp ground anise seed
1/4 tsp garlic powder
1/8 tsp crushed red pepper flakes
Number of Servings
Equipment
9x13" baking pan
Large pot for cooking noodles
Large bowl
Large saucepan
Ladle
Rubber spatula or large spoon
Aluminum foil
Do-Aheads
Preheat oven to 375°
Fill large pot with water and get it started toward boiling
Additional Notes
It's a good idea to put a large baking sheet on the oven shelf below the lasagna, in case the sauce bubbles out while it cooks.