Blueberry Pie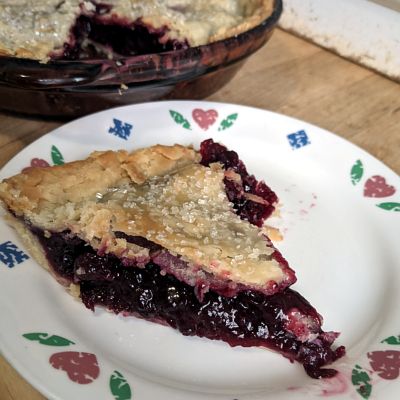 This very fresh-blueberry-tasting pie uses an unusual technique to bring the filling to just the right texture, without the cornstarchy taste or feel of other blueberry pies.
On mobile? Click "Listen in browser".
Difficulty Level
Easy
Hard
Needed Items
Durations
20 minutes prep
40 minutes baking time
Total time (with making the crust) 1 hr 10 minutes
Ingredients
Pie crust for 9" two-crust pie (see link in notes below)
4 cups fresh or frozen blueberries (2 pints)
3/4 cup sugar
3 Tbsp water
1 tsp lemon rind, grated (too little lemon is better than too much lemon)
1/2 tsp cinnamon
2 Tbsp butter
2 Tbsp sugar for top of pie, or Sparkle Sugar
1 egg and a pinch of salt, if you want to eggwash the top of the pie (Optional)
Number of Servings
Equipment
9" pie pan
2 quart sauce pan
Large bowl
Silicone spoon or spatula
Zester for grating lemon peel
Rolling pin, bowl, & parchment paper/wax paper/plastic wrap for making pie crust
Do-Aheads
Make a crust for a 2 crust pie (see link in notes below)
Additional Notes
Here's the pie crust recipe.
And BTW, if you want your lemon flavor to be subtle, rather than idenfiable, only use about 1/2 tsp, or replace the zest with 2 Tbsp lemon juice.