Mini Chocoflanes : A Rich, Romantic Indulgence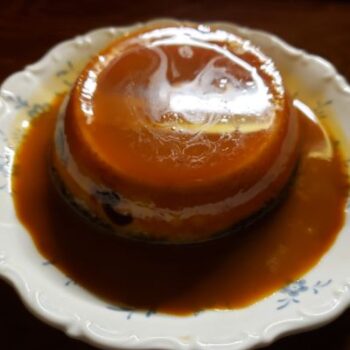 "Impossible Cake"--Rich chocolate cake, creamy vanilla flan, and warm caramel sauce in a slightly exotic, magical dessert that inverts itself as it bakes. Perfect for a romantic dinner; perfectly gorgeous to serve to guests. (Bonus: We all make mistakes.)
On mobile? Click "Listen in browser".
Difficulty Level
Easy
Hard
Needed Items
Durations
40 min prep
35 min baking
1 hr cooling
2 1/4 hours total time
Ingredients
6 Tbsp Goat milk dulce de leche (Cajeta)
6 Tbsp sugar
5 Tbsp all-purpose flour
1/8 tsp baking soda
1/4 tsp salt (divided)
1/3 cup (2 oz) 60% bittersweet chocolate chips
1/4 cup whole milk
1/4 cup Dutch-processed cocoa powder
2 1/2 Tbsp vegetable or canola oil
3 large eggs
2 1/4 tsp vanilla extract (divided)
1 cup evaporated milk
1 cup sweetend condensed milk
3 oz cream cheese (I use Neufchatel)
Number of Servings
Equipment
6 8-ounce ramekins
Nonstick spray
13 x 9" baking pan
Small bowl
Medium bowl
Small saucepan
Whisk
Large stovetop or electric kettle
Blender
Fine-mesh strainer
4 cup liquid measuring cup or bowl
Aluminum foil
Toothpick
Tongs
Sturdy spatula
Wire rack
Paring knife
Do-Aheads
Allow cream cheese to soften to room temperature
Move rack to center of oven
Preheat oven to 325°
Additional Notes
If you're not planning to eat it within a couple of hours of making it, be sure to use microwaveable ramekins!