Walnut Meringue Cookies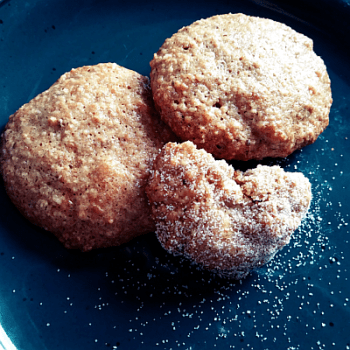 Chewy gluten-free, dairy-free walnut cookies. Only 3 ingredients. (Well, maybe 4.)
On mobile? Click "Listen in browser".
Difficulty Level
Easy
Hard
Needed Items
Durations
10 minutes hands on
20 minutes baking time
15 minutes cooling time
Ingredients
3 cups whole walnuts (250 grams)
3 egg whites (room temperature)
3/4 cup granulated sugar (150 grams) (This is more than I tell you in the podcast!)
1/4 tsp vanilla (Optional)
Number of Servings
Equipment
Food processor
Spoon or rubber spatula
Bowl
Parchment paper
Cookie sheet
Do-Aheads
Remove eggs from fridge and allow to come to room temperature
Additional Notes
Use the sugar amount listed above. The amount in the podcast isn't enough!
A pinch of cinnamon added with the sugar might be nice….
The more of these I eat, the better I like them.