(Toffee-Studded) Brown Sugar & Oatmeal Shortbread Cookies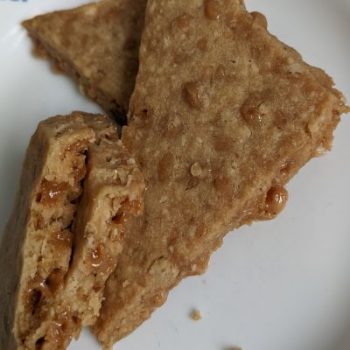 Shortbread cookies, but different! So easy, with only 5 ingredients. Sweet and delicate, with the richness of brown sugar and the toasty addition of oats. But wait! These become OMG extraordinary with the addition of one optional ingredient. Tune in!
On mobile? Click "Listen in browser".
Difficulty Level
Easy
Hard
Needed Items
Durations
Prep: 8 minutes
Chilling: 20 minutes
Baking: 25-30 minutes (or up to an hour)
Ingredients
1 cup butter
1/2 cup dark brown sugar (light brown will also work)
1/4 tsp salt
2 1/4 cups flour
1/2 cup quick-cooking ("One-minute") oats
OPTIONAL but HIGHLY recommended: 1 cup Heath "Bits o' Brickle" Toffee Chips
Number of Servings
Equipment
Cookie sheet(s)
Parchment paper
Rolling pin
Mixer
Do-Aheads
Additional Notes
Mine baked for exactly 28 minutes. After you get to 25 minutes, check yours every 2 minutes and don't let them get browner than the ones in the photos below.