The Best Ever Chewy Chocolate Chip Cookies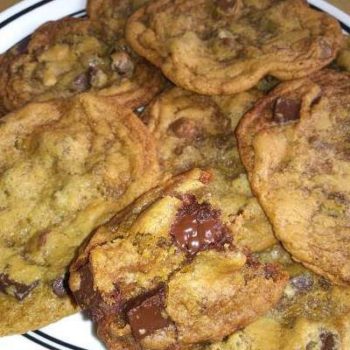 If you like your chocolate chip cookies CHEWY, rather than cakey or crispy, this is the only recipe you will ever need. Two kinds of chocolate, plenty of vanilla, an amazing texture, and the best flavor of any I've ever tried. I've had a lot of home-made and bakery-made chocolate chip cookies, and none of them touch these for taste and texture. No electric appliances needed, and very, very easy to make!
On mobile? Click "Listen in browser".
Difficulty Level
Easy
Hard
Needed Items
Durations
15 minutes hands-on
30 minutes to 12 hours in fridge
12 minutes baking
Ingredients
1/2 cup sugar
3/4 cup brown sugar, packed
1 teaspoon salt
1/2 cup butter, melted
1 egg
2 teaspoons vanilla extract (or 1 tsp double-strength vanilla)
1 1/4 cups all-purpose flour
1/2 teapoon baking soda
4 oz milk chocolate chips or chunks (or semi-sweet)
4 oz dark chocolate chunks
Number of Servings
Equipment
Large bowl
Whisk
Large spoon
Cookie sheet
Parchment paper
Do-Aheads
Melt butter
Please note: Your cookie batter will need to sit for at least 30 minutes (or even overnight) before baking.
When you're ready to bake, let the oven preheat to 350° for at least 30 min. (see the blog recommendation below)
Additional Notes
This recipe is adapted from The Best Chocolate Chip Cookies, by Alvin Zhou, through Tasty.co. Thank you, thank you, thank you, Alvin, for these amazing cookies!
Read the blog about this recipe