Sweet Alabama Pecanbread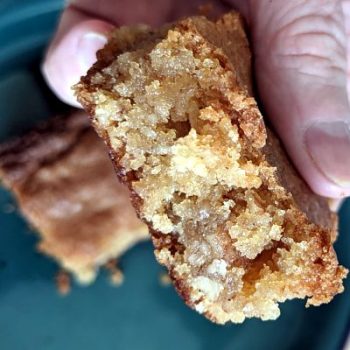 Amazing chewy, rich, buttery, nutty, vanilla-y bars of yumminess. Definitely not "bread"!
On mobile? Click "Listen in browser".
Difficulty Level
Easy
Hard
Needed Items
Durations
15 min prep
30 min baking time
Ingredients
1 cup pecans
3/4 cup self-rising flour-- OR --3/4 cup flour+1 tsp baking powder+1/2 tsp salt
1/2 cup granulated sugar
1/2 cup packed brown sugar
1/2 cup vegetable oil
2 large eggs
1 tsp vanilla extract
1/8 tsp salt
Sparkle sugar (optional)
Number of Servings
Equipment
8x8" baking pan
Cooking spray
Nut chopper or Chef's knife
Mixing bowl
Wooden or silicone spoon
Toothpick
Do-Aheads
Additional Notes
Though these might need to bake for 30-35 minutes, mine were perfectly done at 28 minutes.