Sundried Tomato Cheese Spread : With TWO Cheeses+Garlic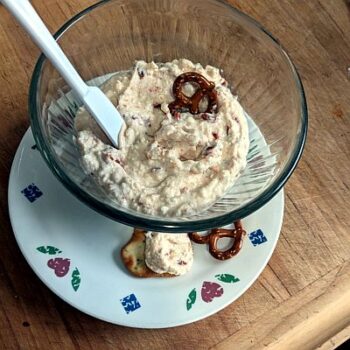 This yummy spread for crackers or sandwiches includes both ricotta and feta, along with garlic and yes, sundried tomatoes. If you are a fan of these flavors, you will love this.
On mobile? Click "Listen in browser".
Difficulty Level
Easy
Hard
Needed Items
Durations
Ingredients
3 Tbsp sun-dried tomatoes
2 Tbsp red wine vinegar
Pinch of dried red pepper flakes
Pinch of granulated sugar
1/2 cup part-skim ricotta cheese
1/2 cup (3 oz) crumbled feta cheese
1 clove garlic
Number of Servings
Equipment
Microwave (or stovetop)
Small microwave-safe bowl (or small saucepan for stovetop)
Electric mixer or hand whisk
Do-Aheads
Additional Notes
This is great on crackers and is also yummy used in place of mayonnaise on your sandwich.