Sugar & Spice Roasted Almonds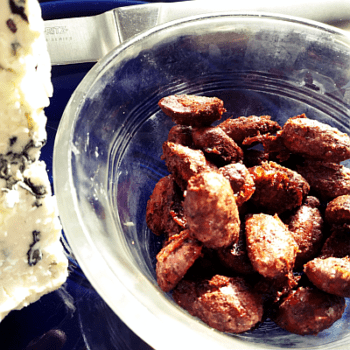 These lightly-sweet and cinnamon-y almonds are easy to make; a healthy snack with just a little sweet, a little salt, and a little spice. Roasting the almonds makes that lovely toasted flavor, and the spices brighten them up just enough to make them into an special snack or a simple supplement to a dessert cheese. Great to share when visiting friends for dinner. Slightly addictive....
On mobile? Click "Listen in browser".
Difficulty Level
Easy
Hard
Needed Items
Durations
6 minutes prep
60-70 minutes roasting time
Ingredients
3 cups plain whole almonds
1 egg
1/3 cup granulated sugar
1/2 tsp salt
2 tsp cinnamon
1 tsp ground allspice
1/4 tsp ground nutmeg (or to taste)
Number of Servings
9 servings of 1/3 cup each
Equipment
2 bowls
spoon
parchment paper
cookie sheet
cooking spray
Do-Aheads