Slow Cooker Butter Chicken : Creamy & Spicy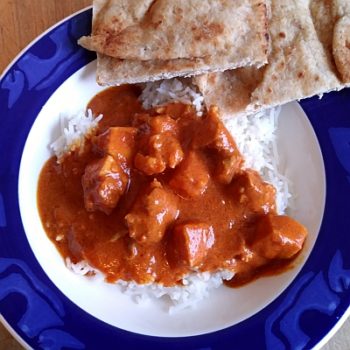 Indian spices--garam masala, cumin, turmeric, paprika, and chili powder--along with lots of garlic and a hefty chunk of butter make up this very yummy, much-loved chicken dish. Coconut milk smooths out the heat and creates a creamy dish to serve over rice or with a nice flatbread.
On mobile? Click "Listen in browser".
Difficulty Level
Easy
Hard
Needed Items
Durations
30 minutes hands on
2-3 hrs on high or 5-6 hrs on low
Ingredients
2 pounds boneless, skinless chicken breasts or thighs
1/2 onion, minced
1 (14 oz) can coconut milk
1 (6 oz) can tomato paste
8 cloves of garlic
4 TBSP butter (salted or unsalted)
2 TBSP all-purpose flour
1 TBSP garam masala
1/2 TBSP paprika
1 tsp cumin
1 tsp turmeric
1 tsp cayenne
Salt and pepper, to taste
Basmati rice and/or naan or other flatbread to serve with the completed dish
Number of Servings
Equipment
Slow cooker
Sharp knife
Fry pan
Do-Aheads
Defrost chicken, if necessary
Additional Notes
This is not hot at all! Mildly and wonderfully spicey. I decided it was better when sprinkled lightly with a little coarse sea salt, at the table. This is even yummier the second day!
Recipe comes from 12Tomatoes, adapted from Noshing with the Nolands