Sharon's Perfect Apple Pie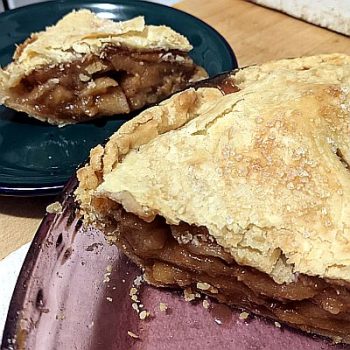 Densely layered apples in a sugar and cinnamon sauce with a light and flaky crust. The apples are treated in a special way that makes it possible to get more apples in the pie, and they will stay where you put them so that they don't shrink and leave the top crust towering over empty space. The lucky consumers of this pie tend to "ooh" and "aah" when you cut that first slice because it looks impressively luscious. Luckily, the taste is a dream come true.
On mobile? Click "Listen in browser".
Difficulty Level
Easy
Hard
Needed Items
Durations
Apple prep: 45 minutes
Filling prep: 10 minutes
Resting time: 8-12 hours
Crust-making: 15 minutes
Pie prep: 5 minutes
Baking time: 45 minutes
Total hands-on: 1 hour, 15 minutes
Ingredients
9 cups sliced apples (about 9 apples)
1/2 cup granulate sugar
1/2 cup firmly packed brown sugar
1 1/2 tsp ground cinnamon
1/4 tsp ground nutmeg (optional)
1 tsp vanilla extract (imitation is okay)
1/4 tsp salt
2 Tbsp lemon juice
1 Tbsp butter or margarine
...and a pie crust (see notes below)
Number of Servings
Equipment
Paring knife
Sharp knife
Large bowl
Rolling pin
Parchment paper, waxed paper, or plastic wrap
Slotted Spoon
9" x 1 1/2" pie pan
Do-Aheads
The first part of this podcast is a do-ahead.
Preheat oven to 450° before you start making the crust
Additional Notes
Here is Cindy's Favorite Pie Crust (Two-crust pie) podcast
If you are making the extra large version of this pie, and using a 9 1/2″ – 10 1/2″ springform pan, use
Easy Pie Crust podcast with these amounts for the crust:
3 cups all-purpose flour
3/4 cup vegetable oil
3/4 tsp salt
3/8 tsp baking powder
4 1/2 Tbsp cold water
And fill it with:
11-12 cups sliced apples (11-12 apples)
2/3 cup granulated sugar
2/3 cup packed brown sugar
2 tsp cinnamon
1 1/2 tsp vanilla
ROUNDED 1/4 tsp salt
3 Tbsp lemon juice
1/4 cup flour
1 1/2 Tbsp butter
…and increase your baking time by 10 to 15 minutes.
Another note…I have drizzled this with caramel ice cream topping right before cutting the pie. That got my guests pretty excited about eating it.