Rosemary Cheddar Drop Biscuits : Easy & Irresistible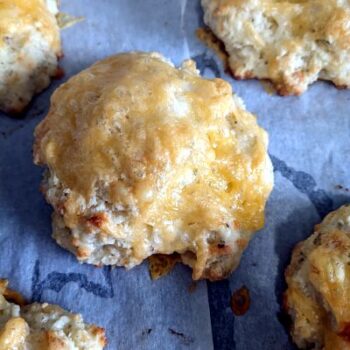 The perfect accompaniment to winter comfort food AND a summer barbecue. These are very easy to make, buttery, cheesy, and savory. They'll be a bit hit!
On mobile? Click "Listen in browser".
Difficulty Level
Easy
Hard
Needed Items
Durations
10 minutes prep
15 minutes baking
TOTAL: 25 minutes
Ingredients
2 cups all-purpose flour
1 1/2 cups shredded cheddar cheese (I recommend sharp)
1 Tbsp dried rosemary
1/2 tsp garlic powder
1 Tbsp baking powder
1 tsp granulate sugar
1/2 tsp salt
1/4 tsp black pepper
1/4 cup cold salted butter
1 cup + 1 Tbsp buttermilk
Number of Servings
Equipment
Large bowl
Rubber or silicone spatula
Large baking sheet
Non-stick cooking spray OR silicone baking sheet the size of the baking sheet
Do-Aheads
Preheat oven to 450°
Shred cheese, as needed and separate out 1/2 cup
Additional Notes
We don't have any notes yet for this receipe, but check back… you never know!