Roasted Sweet Potato Risotto with Peas, Parmesan & Gruyere : A Cookalong Original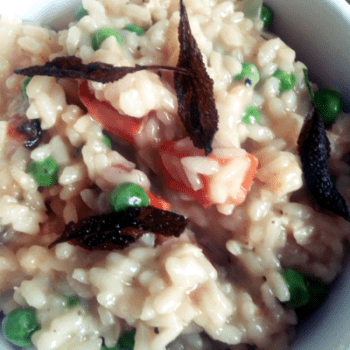 Warm, creamy, savory and sweet. Creamy herbed rice with two cheeses surrounds veggies that all get sweeter when you cook them. This is comfort food at its finest. Homey yet elegant, and yes, you CAN do this!
On mobile? Click "Listen in browser".
Difficulty Level
Easy
Hard
Needed Items
Durations
40 minutes prep (unless you cook the sweet potatoes in a faster way)
30 minutes cooking/stirring
Ingredients
2 cups diced sweet potatoes, roasted (listen for how-to)
1 1/2 cups Arborio rice
4 cups chicken stock
1/2 cup white wine
1 medium shallot or 1/2 small onion, chopped
3 Tbsp butter, divided
1 Tbsp vegetable oil
1 clove garlic
1/2 tsp powdered (rubbed) sage
1/2 tsp cumin
1/2 tsp salt
Fresh ground pepper, to taste
1 cup frozen peas
1 cup shredded Gruyere cheese
1/4 cup Parmesan cheese
Number of Servings
4 as a main dish, 6-8 as a side dish
Equipment
1-2 quart saucepan
3-4 quart saucepan
Long-handled wooden or silicone spoon
Garlic press
Grater or food processor
Ladle
Rimmed cookie sheet
Time and patience
Do-Aheads
Roast sweet potatoes (Instructions at the top of the podcast)
Chop onion or shallot
Heat chicken stock (Instructions at the top of the podcast)
Grate Parmesan
Shred Gruyere
Set peas out to defrost
Set all ingredients out close to hand (Instructions at the top of the podcast)
Additional Notes
If you want more protein, stir in some diced rotisserie chicken at the same time as the sweet potatoes and peas. Add some crispy fried sage as a garnish, like I did in the top photo!