Ricotta, by YOU : A Cookalong Podcast Quick Bite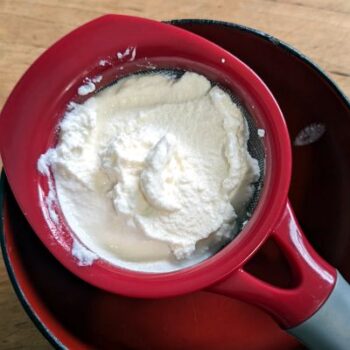 Become a cheesemaker! This fast, no-fuss ricotta recipe will make better cannoli! Also great in your lasagna, or spread on a cracker.
On mobile? Click "Listen in browser".
Difficulty Level
Easy
Hard
Needed Items
Durations
8 minutes prep and cooking
5-20 minutes draining
Total: less than half an hour
Ingredients
2 cups whole milk
2 Tbsp distilled white vinegar (or lemon juice)
1/4 tsp salt (optional)
Number of Servings
Equipment
1 quart microwave-safe glass bowl
Paper towels
Collander or sieve
Slotted spoon
Plastic wrap
Instant-read thermometer (optional)
Do-Aheads
Line the collander with two layers of the paper towel.
Additional Notes
We don't have any notes yet for this receipe, but check back… you never know!