Pineapple & Avocado Salad : Simple & Unexpected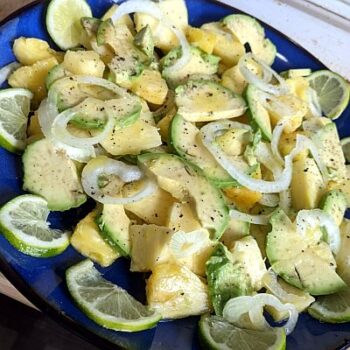 A very fun Cuban salad that combines unexpected ingredients into a bright, flavorful, elegant but super-easy side dish.
On mobile? Click "Listen in browser".
Difficulty Level
Easy
Hard
Needed Items
Durations
20 minutes, including soaking the onions
Ingredients
1/4 cup thinly sliced red or sweet onion
ice water
1 firm ripe avocado
1/2 medium fresh pineapple
3 Tbsp extra-virgin olive oil
1 Tbsp fresh lime juice
1/2 tsp kosher salt
Fresh ground pepper
Number of Servings
Equipment
Small bowl
Sharp knife
Juicer (optional but helpful)
Do-Aheads
Additional Notes
Recipe from Eatingwell.com
Red onions make this dish much prettier than the sweet onion I used in these photos.

Read the blog about this recipe