Penne Spinach Lasagna Bake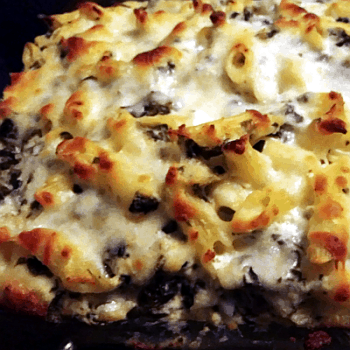 Very quick and easy pasta bake with spinach, 3 kinds of cheese, and sour cream. It all just goes together and you bake it--much faster than creating a spinach lasagna, but with all the same ingredients. Vegetarian, and easily made gluten-free.
On mobile? Click "Listen in browser".
Difficulty Level
Easy
Hard
Needed Items
Durations
20 minutes prep
45 minutes baking time
Ingredients
12 oz pkg Penne pasta, cooked (cook along on this, at the top of the podcast)
16 oz low fat sour cream
16 oz frozen chopped spinach
¼ cup chopped green onions
1 tsp salt
1 Tbsp minced garlic (from a jar is fine)
1 Tbsp lemon juice
Dash of ground red pepper
1 ½ cups shredded mozzarella plus extra for topping
1 ½ cups Ricotta (about 16 oz)
1/3 cup grated parmesan
Number of Servings
Equipment
Large bowl
Large saute/frying pan
8" square pan
Sharp knife
Cooking spray
Do-Aheads