Pecan Meringue Pie : Lost & Found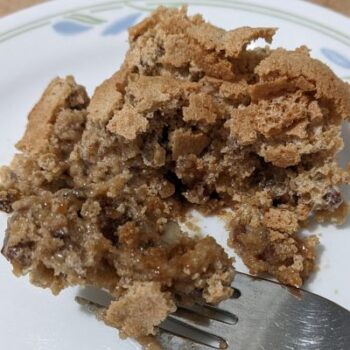 Very sweet, chewy meringue in the middle, super light and crispy on the top. The pecans add flavor and magically become part of the chewy interior rather than standing out. Very few ingredients and super easy to make.
On mobile? Click "Listen in browser".
Difficulty Level
Easy
Hard
Needed Items
Durations
15 minutes prep
20 minutes baking
3 1/2 hours cooling time
Total time: 4 hours
Ingredients
20 Ritz crackers
3/4 cup pecan pieces or chopped pecans
1/2 cup brown sugar
3 egg whites
1/4 tsp cream of tartar
1/2 cup granulated sugar
1 tsp vanilla extract
Number of Servings
Equipment
Medium bowl
Large bowl
Pie plate (or loaf pan)
Beater or immersion blender
Do-Aheads
Preheat oven to 350°
Chop pecans, if necessary