Pasta with Fried Garlic & Toasted Nuts ("Pistachio Pasta") : A Cookalong Original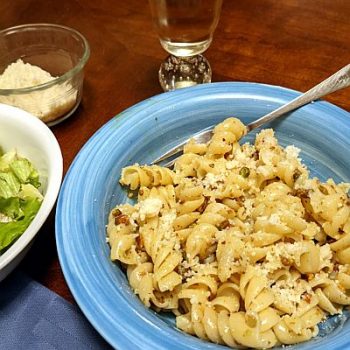 Tender pasta, toasty nuts, crispy garlic bits, sage, and plenty of freshly grated parmesan. The favorite dish of everyone in my household. Completely customizable!
On mobile? Click "Listen in browser".
Difficulty Level
Easy
Hard
Needed Items
Durations
Prep: 8 minutes
Cooking: 12 minutes
Total time: 20 minutes
Ingredients
1 pound dried pasta of your choice (I use Rotini or Penne)
1/4 cup butter or olive oil
1/2 cup nuts of your choice (I recommend pistachios! Or toasted almonds)
4 large cloves fresh garlic
1 tsp dried herb of your choice (sage, oregano, thyme, or...?)
Freshly grated parmesan cheese. Lots.
Number of Servings
2-4 (depending on how much pasta you cook)
Equipment
Small frying/saute pan
Large frying/saute pan
Sharp chopping knife
Optional: Nut chopper
Do-Aheads
Prep any side dish you want with the pasta (Green salad?)
Additional Notes
The pasta-cooking method I describe is ONLY for DRIED, UNFILLED pasta. Don't try it on frozen, refrigerated, or filled pastas (like ravioli or tortellini). Cook those according to package directions.