Palmier Cookies : Easy & Elegant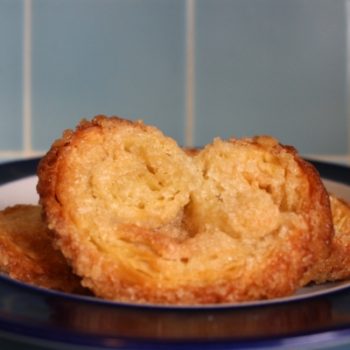 Have you ever had a bakery palmier? Shaped in a double loop, crusted in melted sugar, crispy layered pastry? These are like that, only smaller and made at home.
On mobile? Click "Listen in browser".
Difficulty Level
Easy
Hard
Needed Items
Durations
40 minutes to defrost pastry
15 minutes hands on
30 minutes resting time
15 minutes baking time
Ingredients
1 sheet of puff pastry
1/4 cup butter (1/2 stick)
1 cup sugar
Number of Servings
Equipment
Cookie sheet
Rolling pin
Pastry brush (or a spoon)
Plastic wrap
Parchment paper
Do-Aheads
Get Puff Pastry out to defrost according to package directions
Additional Notes
This recipe uses 1/4 cup butter IN TOTAL. You melt it all and use half of the melted butter on each side of the pastry. Don't repeat the mistake you're about to hear me make!
Read the blog about this recipe