Oatmeal Cranberry Cookies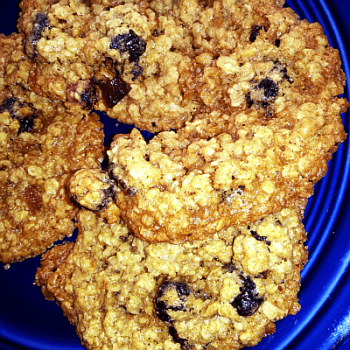 Rich, chewy cookies rich with lots of butter, lots of brown of sugar, a lot of vanilla, and dried cranberries. Oh, yeah, and oatmeal. So they're healthy.
On mobile? Click "Listen in browser".
Difficulty Level
Easy
Hard
Needed Items
Durations
20 minutes preparation
30-50 minutes baking time
Ingredients
3 cubes butter (1 1/2 cups), softened
1 cup granulated sugar
2 cups brown sugar (packed)
2 eggs
4 Tbsp water
2 Tbsp vanilla extract
1 1/3 cups all-purpose flour
2 tsp ground cinnamon
1 tsp salt
1 tsp baking soda
6 cups quick-cooking oats
2-3 cups dried cranberries (or raisins)
Number of Servings
Equipment
Cookie sheets
Mixer
Cooking spray
Do-Aheads
Preheat oven to 350°
Set butter cubes and eggs out to warm up
Additional Notes
Be generous with the cooking spray! These cookies have a lot of sugar in them, and they will stick.
They'll probably bake for the full 10 minutes, and they will not look done when you remove them from the oven. Have no fear! They will cook a little more while they sit on the sheet to cool a bit before you move them to cooling racks.