Minestrone : Homemade Italian Comfort Food in 20 Minutes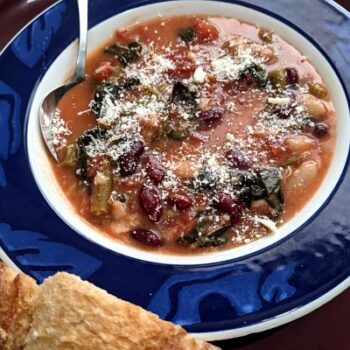 Warm comfort food, ready fast, very yummy, good for you, and topped with parmesan. No chopping required. Easiest from-scratch soup you'll ever make.
On mobile? Click "Listen in browser".
Difficulty Level
Easy
Hard
Needed Items
Durations
Ingredients
2 cloves fresh garlic
1-2 Tbsp olive oil
28 oz can diced tomatoes
32 oz vegetable or chicken broth
15 oz can cannellini or garbanzo beans
15 oz can kidney beans
9-16 oz frozen green beans or other vegetable
5 oz bag fresh spinach or 10 oz bag frozen spinach
1/2 tsp salt
1/4 tsp pepper
1/2 cup grated parmesan cheese
Number of Servings
Equipment
Large pot
Large spoon
Garlic press or sharp knife
Do-Aheads
Defrost frozen spinach, if using
Drain and rinse canned beans
Additional Notes
Serve with garlic bread and/or green salad for a perfect meal.