Migas–Comfort Food in 10 Minutes or Less : A Cookalong Podcast Quick Bite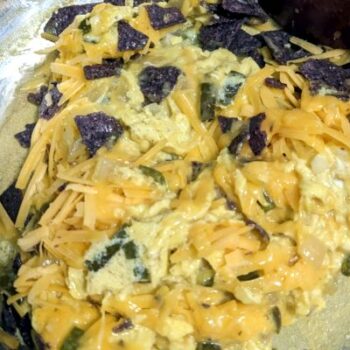 This is a meal for any time of day that will make your mouth so happy and be ready to eat in just a few minutes.
On mobile? Click "Listen in browser".
Difficulty Level
Easy
Hard
Needed Items
Durations
5 minutes chopping and grating
5 minutes cooking
Ingredients
4 eggs
1/4 tsp salt
1/4 tsp ground pepper
1 Tbsp olive oil
1/4 of a sweet onion
1 jalapeno or equivalent amount of bell pepper (I like red)
1 garlic clove
1/2 cup grated cheese (I like sharp cheddar)
1 large handful of crumbled tortilla chips
Number of Servings
Equipment
Medium bowl
Large skillet
Whisk or fork
Rubber spatula
Garlic press (optional, but fastest)
Cheese grater, if you're grating your own
Do-Aheads
Prep your jalapenos in advance--listen for that how-to tip
Additional Notes
I use blue corn chips, so this isn't pretty to look at. I don't mind.
Okay to use pre-grated cheese, if it doesn't feel dry and powdery to the touch (which means it may not melt well).