Luscious Chocolate Pecan Pie Bars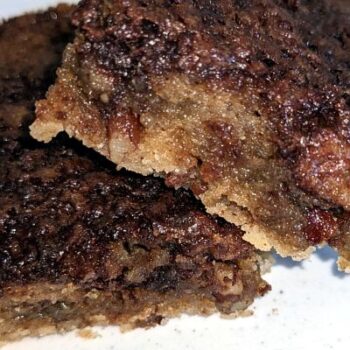 Think you don't like Pecan Pie? Think again, but smaller! Rich, gooey, chocolatey, and nutty, finger-food-size--what's not to like?
On mobile? Click "Listen in browser".
Difficulty Level
Easy
Hard
Needed Items
Durations
15 minutes for crust
10 minutes for topping
30 minutes baking
20 minutes cooling
TOTAL: 1 hr, 15 min
Ingredients
1 1/4 cups all-purpose flour
1/4 cup granulated sugar
1/2 tsp baking powder
1/2 tsp ground cinnamon
1/2 cup butter
1 cup finely chopped pecans
1 oz semisweet or bittersweet chocolate
3 eggs
1 1/4 cups packed brown sugar
2 Tbsp bourbon or water
1 tsp vanilla
Number of Servings
Equipment
Medium bowl
Pastry cutter or two table knives
13" x 9" baking pan
Small saucepan
Small bowl
Wire cooling rack
Do-Aheads
Preheat oven to 350°
Chop pecans, if necessary
Additional Notes
We don't have any notes yet for this receipe, but check back… you never know!