Lentil Soup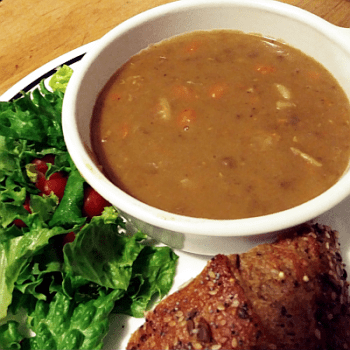 Hearty, smooth, homey lentil soup. This is quite rich, both in consistency and flavor, with carrots and potatoes for color, texture and taste. Great to serve as comfort food at the end of a hard day.
On mobile? Click "Listen in browser".
Difficulty Level
Easy
Hard
Needed Items
Durations
30 minutes hands on
3 hours cooking time
Ingredients
3 Tbsp salad oil
2 Tbsp olive oil
3 oz bacon (3-4 strips)
1 large carrot
3/4 cup diced onions
1 1/2 stalks celery
1 medium yukon gold or yellow potato
3/4 cup all purpose flour
3 1/2 quarts (14 cups) water
1 cup green lentils
1 tsp salt
1/2 tsp sugar
1/2 tsp garlic powder
1/2 tsp paprika
1/4 tsp dry mustard
1/4 tsp curry powder
1/2 tsp white pepper
Pinch of nutmeg
2 Tbsp beef base
Number of Servings
Equipment
Chopping knife
Large soup pot
Do-Aheads
Additional Notes
Be sure to stir this fairly often as it's simmering, so that it doesn't burn to the bottom of the pan.
A dash of Chardonnay or other white wine can make a nice addition to this soup.