Lemon Meltaways : Sweet-tart Lemony Discs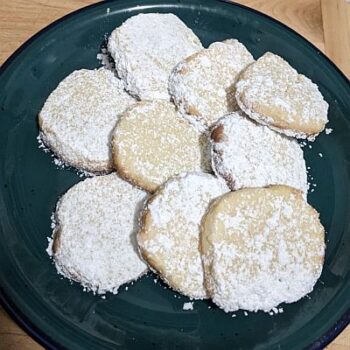 Tender, sweet-tart very lemon shortbread cookies. Only two bites each, so you'll go back for another. And another.
On mobile? Click "Listen in browser".
Difficulty Level
Easy
Hard
Needed Items
Durations
30 minutes hands on
2 hours chilling
12 minutes baking
Ingredients
1 cup unsalted butter
2 cups powdered sugar
2 Tbsp grated lemon zest
2 Tbsp lemon juice
1 egg yolk
2 cups all-purpose flour
1/4 cup cornstarch
1/2 tsp kosher salt
Number of Servings
Equipment
Electric stand mixer
Zester or box grater
Medium bowl
Silicone spatula
Parchment paper
1-2 large baking sheets
Cooling rack
Sifter or fine-mesh sieve
Do-Aheads
Allow butter to come to room temperature
Additional Notes
Instead of the powdered sugar on top, you might consider trying a tiny bit of flaky salt.