Italian Almond Ricotta Cookies : Lightly Sweet with a Unique Texture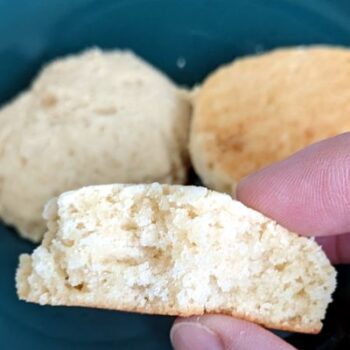 These intensely almond cookies are chewy/cakey/dense/light--a delightfully addictive taste and texture!
On mobile? Click "Listen in browser".
Difficulty Level
Easy
Hard
Needed Items
Durations
15 minutes mixing
10 minutes scooping & rolling
11-15 minutes baking
Total time ~45 minutes
Ingredients
1/2 cup butter
1/2 cup packed brown sugar
2/3 cup white sugar
1 egg
1/2 tsp vanilla extract
1/2 tsp almond extract
1 cup ricotta cheese
2 cups all-purpose flour
1 tsp baking powder
1 cup almond flour
Number of Servings
Equipment
Large baking sheet (or two medium ones)
Large bowl
Electric mixer
Parchment paper
Do-Aheads
Allow butter to warm to room temperature
Preheat oven to 350°
Additional Notes
We don't have any notes yet for this receipe, but check back… you never know!