Greek-Style Beef and Cheese Ravioli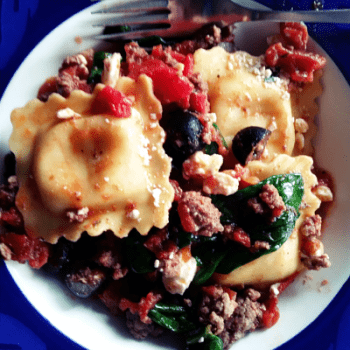 Cheese ravioli becomes something a little different, a little special, with some ground beef, tomatoes, fresh spinach, olives, and feta. So easy to make.
On mobile? Click "Listen in browser".
Difficulty Level
Easy
Hard
Needed Items
Durations
10 minutes waiting for water to boil
20 minutes cooking time
Ingredients
9 oz package refrigerated cheese ravioli
1 1/4 lbs lean ground beef
2 14 1/2 oz cans diced tomatoes with basil, garlic and oregano
2 cups lightly packed fresh baby spinach
1 cup pitted ripe olives (or kalamata olives, if you like)
1/2 cup crumbled feta cheese
Number of Servings
Equipment
Large pot for cooking pasta
Large skillet
Do-Aheads
You could cut the olives in half, if you want
Additional Notes
We don't have any notes yet for this receipe, but check back… you never know!