Greek Nachos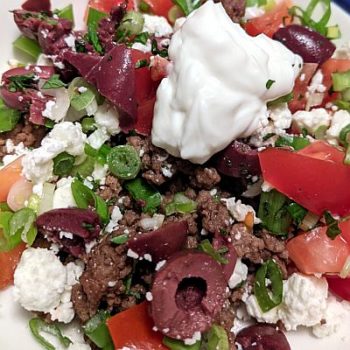 Seasoned beef, kalamata olives, feta cheese, garlic, tomatoes...a fun twist on nachos to share with friends.
On mobile? Click "Listen in browser".
Difficulty Level
Easy
Hard
Needed Items
Durations
15 minutes chopping
10 minutes cooking
Ingredients
1 1/4 pounds very lean ground beef
1 tsp minced garlic
1/4 tsp dried thyme leaves
3/4 cup beef broth
1 1/2 tsp cornstarch
Salt
Pepper
1/2 pound fresh tomatoes (Roma is easiest to work with)
1/2 cup pitted kalamata olives
1/4 cup fresh mint
7-10 fresh green onions
Pita chips
1/3 cup feta cheese
1/2 cup plain yogurt, Greek yogurt, or sour cream
Number of Servings
Equipment
Do-Aheads
Make your own pita chips, if desired (instructions are early in the podcast).
Additional Notes
If this is your dinner, it will be only 2-3 servings.