Garlic Parmesan Chicken Soup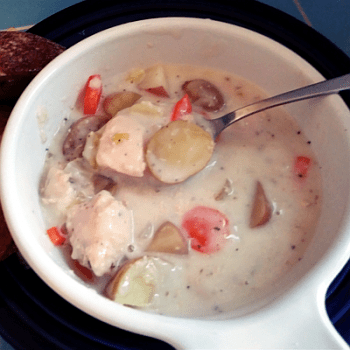 Wonderful creamy parmesan flavored soup, full of vegetables and chicken, infused with garlic and Italian herbs. Comforting, warm, and VERY easy to make in your slow-cooker.
On mobile? Click "Listen in browser".
Difficulty Level
Easy
Hard
Needed Items
Durations
10 minutes hands-on prep
3-5 hours cooking time
2 minutes hands-on finishing time
Ingredients
3 boneless, skinless chicken breasts
1 pound small potatoes or diced potatoes (red, gold, purple, or a combination)
1/2 yellow onion
2 carrots
2 ribs celery
4 cloves garlic
1/2 tablespoon Italian seasoning
Salt and pepper
3 cups low-sodium chicken broth
2/3-1 cup heavy cream
4 Tablespoons corn starch
1 cup parmesan cheese, grated
Number of Servings
Equipment
Slow cooker
Small whisk (or fork)
Sharp knife
Do-Aheads
Defrost chicken breasts, if using frozen ones
Additional Notes
This recipe comes from Twelve Tomatoes, and they adapted it from The Recipe Rebel.