Fudge Crackles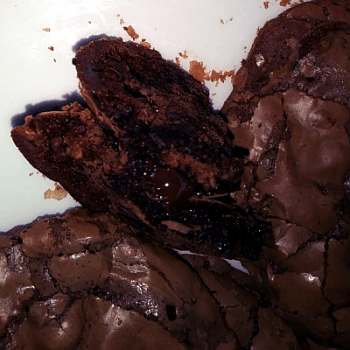 Chewy, fudgy cookies. Three kinds of chocolate plus walnuts. Not your usual chocolate cookie, as these get their texture from eggs, rather than flour. Very rich, very beautiful, very easy to eat.
On mobile? Click "Listen in browser".
Difficulty Level
Easy
Hard
Needed Items
Durations
30 minutes hands on
30 minutes baking time
Ingredients
7 ounces semi-sweet chocolate, chopped (or just use chocolate chips)
2 ounces unsweetened chocolate, chopped
3 Tbsp butter
1 cup granulated sugar
3 eggs, at room temperature
1 tsp vanilla
1/2 tsp baking powder
1/4 tsp salt
6 ounces semi-sweet chocolate chips (about a cup)
1/2 cup walnuts
Number of Servings
Equipment
Food processor
Cookie sheet(s)
Rubber spatula
Cooking spray
Chef's knife
Do-Aheads
Preheat oven to 350°
Get 3 eggs out of fridge to warm up
Spray cookie sheets
Additional Notes
The article about vanilla mentioned in this podcast is from Cook's Illustrated, the January-February 2019 issue.
Their top choice for vanilla flavor is Baker's Imitation Vanilla Flavor, because when you make it from scratch, you can put in as much flavor as you like. The kind made from real beans depends on the quality of the beans for flavor.