Farro Salad with Feta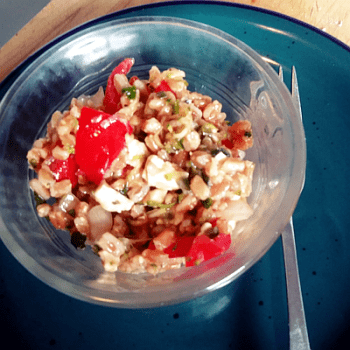 A colorful, healthy salad--something a little different. Chewy farro with fresh tomatoes and herbs, the sour saltiness of feta cheese, dressed up with a simple balsamic vinaigrette.
On mobile? Click "Listen in browser".
Difficulty Level
Easy
Hard
Needed Items
Durations
Ingredients
4 cups water
1 1/2 cups uncooked farro
2 1/4 teaspoons salt
1 pound fresh tomatoes
1/3 cup chopped sweet onion
1/4 cup snipped fresh chives
1/4 cup finely chopped fresh Italian parsley leaves
1/3 - 1/2 cup crumbled feta cheese
1 large garlic clove
2 Tbsp balsamic vinegar
1/4 cup extra virgin olive oil
Freshly ground pepper
Options: fresh basil leaves, fresh kale, diced ripe avocado, toasted sliced almonds
Number of Servings
Equipment
Large bowl
Sharp knife
Medium saucepan
Do-Aheads
Additional Notes
This can be modified to include other herbs, and is extra special with the addition of some diced avocado.
It's really fabulous with a handful or two of sliced almonds that have been lightly toasted in your toaster oven or a saute pan on your stovetop.