Easy Granola : Perfectly Balanced Flavor & Crunch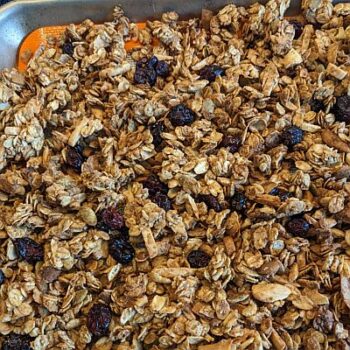 Crispy and healthy, but with lots of cinnamon, maple, vanilla, and your favorite nut butter. The flavors are perfectly balanced.
On mobile? Click "Listen in browser".
Difficulty Level
Easy
Hard
Needed Items
Durations
10 minutes prep
26 minutes baking
TOTAL: 36 minutes
Ingredients
1/3 cup grade A maple syrup
1/3 cup nut butter of your choice (unsalted)
1 tsp vanilla extract
1/2 tsp salt
1 Tbsp ground cinnamon
2 cups whole grain rolled oats
1/3 cup pumpkin seeds (raw or roasted--no salt)
1/2 cup slivered almonds
1/3 cup chopped walnuts
1/3 cup crisp rice cereal (such as Rice Krispies)
1/2 cup unsweetened coconut flakes (NOT shredded!)
1/3-1/2 cup dried fruit or chocolate chips
Number of Servings
Equipment
Very large bowl
Large spoon
Whisk
Large baking sheet (13x17")
Parchment paper, silicone baking sheet, or nonstick spray
Pancake-turner-type spatula
Do-Aheads
Preheat oven to 325°
Chop walnuts
Additional Notes
All the ingredients except the oats can be swapped for other ingredients as long as you keep the balance of wet to dry the same as above.