DoubleTree Cookies Copycat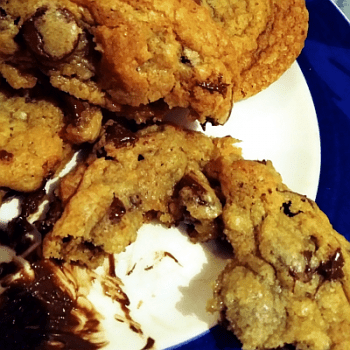 Big, soft chocolate chip cookies with walnuts and a hint of cinnamon. These are so loaded with chips and a warm blend of sugar and spice.
On mobile? Click "Listen in browser".
Difficulty Level
Easy
Hard
Needed Items
Durations
15 min prep
1-24 hrs chilling
15 minutes baking per tray
Ingredients
2 1/2 cups all-purpose flour
1/2 cup old-fashioned or rolled oats
1 1/4 tsp baking soda
1 tsp salt
1/4 tsp cinnamon
1 cup (2 sticks) butter
3/4 cup brown sugar
3/4 cup sugar
1/2 Tbsp vanilla extract
1/2 tsp lemon juice
2 large eggs
3 cups semi-sweet chocolate chips
1 cup walnuts, chopped
Number of Servings
Equipment
Coffee grinder, small food processor, or blender
Medium bowl
Large bowl
Whisk
Chopping knife
2 cookie sheets
Parchment paper
Spatula
Do-Aheads
Cover cookie sheets with parchment paper
Chop nuts
Melt butter
Grind oats into flour
Additional Notes
We don't have any notes yet for this receipe, but check back… you never know!