Cindy's Chicken Pot Pie : A Cookalong Original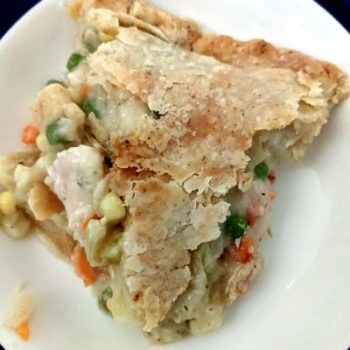 Warm, creamy, cozy eating any time, but especially great on cold nights. Classic comfort food you can easily make from scratch. Or...take shortcuts to make it even easier and faster. A pot pie says you want to make everything better for someone you love.
On mobile? Click "Listen in browser".
Difficulty Level
Easy
Hard
Needed Items
Durations
25 minutes prep
35 minutes baking
15 minutes cooling
Total: 1 hour, 15 min.
Ingredients
1 3/4 cups all-purpose flour
1 tsp salt
1/2 cup vegetable oil
3 Tbsp cold water
1 cup diced Yukon Gold potatoes (or Russets or sweet potatoes)
3/4 cup chopped carrots
1/3 cup chopped onion or shallot
1/2 cup butter
1/2 cup all-purpose flour
1 tsp salt
1/2 tsp dried thyme leaves
1/4 tsp pepper
1 1/4 cups chicken broth
3/4 cup whole milk, heavy cream, evaporated milk, or Ripple Original Pea Milk
2 Tbsp dry white wine (Chardonnay, Pinot Grigio, Pinot Gris, or Sauvignon Blanc)
1/2 pound cooked chicken breast, cubed
1/2 cup frozen peas
1/2 cup frozen corn
Number of Servings
Equipment
9" pie plate
Rolling Pin
Plastic wrap, waxed paper, or parchment paper
3 qt saucepan
Medium bowl
Do-Aheads
Additional Notes
This is a great place to learn to make pie crust and roux. Use any frozen veggies you like!