Chocolate Orange Cookies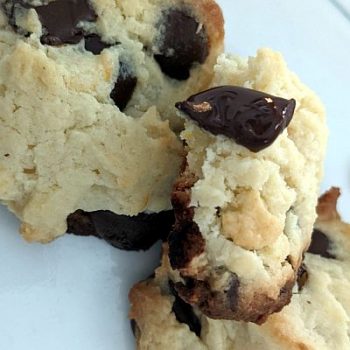 Light, almost creamy cookies, kind of like a very soft orange-flavored shortbread, studded with chocolate chips. These aren't pretty to look at, but they are (WARNING!) completely addictive!
On mobile? Click "Listen in browser".
Difficulty Level
Easy
Hard
Needed Items
Durations
Prep & Mix: 15 minutes
Baking: 15 minutes
Total: 30 minutes
Ingredients
1/2 cup shortening (I used butter-flavored)
3 oz. cream cheese (I used neufchatel)
1 tsp grated orange rind
1/2 cup sugar
1 egg yolk
1 tsp vanilla
1 cup flour
1/4 tsp salt
5 oz. (about a cup) semisweet or dark chocolate chips
Number of Servings
Equipment
Mixer
Cookie sheet
Cooking spray
Spatula
Do-Aheads
Preheat oven to 350°
Reconstitute dried orange rind, if you aren't using a fresh orange
Additional Notes
I froze most of these cookies in the same way I do all my cookies–shape them into cookies and place them on a cookie sheet, put the cookies in the freezer until hard, pull the cookie sheet from the freezer and move all the frozen cookies to a Ziploc bag labeled with the cookie name and cooking directions, and then put the zipped bag into the freezer. Then I can pull out only a couple at a time, bake them as usual, and always have warm, melty, fresh-baked cookies.
Read the blog about this recipe