Chipotle & Rosemary Roasted Nuts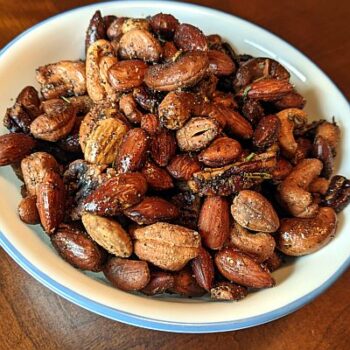 Roasted snack nuts, easy to make, lightly spicy and intriguing. Fun to eat and share. You'll go back for just one more.
On mobile? Click "Listen in browser".
Difficulty Level
Easy
Hard
Needed Items
Durations
10 minutes prep
15 minutes roasting
TOTAL: 25 minites
Ingredients
2 cups whole cashews
2 cups whole almonds
1 cup pecan halves
OR...5 cups of whatever nuts you most like to eat (I used Kirkland Unsalted Mixed nuts)
1/4 cup olive oil
1-2 tsp ground chipotle powder
1 tsp ground cumin
1/4 tsp cayenne
1/2 tsp fine ground black pepper
2 tsp kosher salt
Number of Servings
Equipment
Large baking sheet (or 2 medium)
Large spoon or spatula
Large bowl
Small saute pan
Parchment paper
Do-Aheads
Preheat oven to 350°
Line baking sheet(s) with parchment paper
Additional Notes
These roasted nuts can be frozen for long-term storage.