Chicken Alfredo for One : Treat Yourself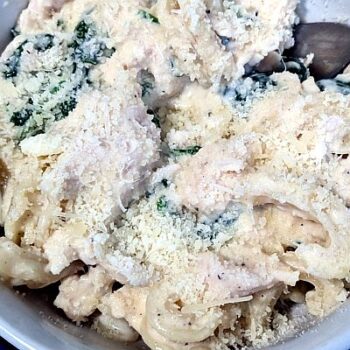 Warm, creamy, cheesy, easy Alfredo sauce coats chewy pasta and butter-soft chicken. Just enough for one comforting meal.
On mobile? Click "Listen in browser".
Difficulty Level
Easy
Hard
Needed Items
Durations
8 min prep
22 min cooking
30 min Total time
Ingredients
2 oz uncooked pasta (fettucini, or your shape of choice)
2 Tbsp butter
6-7 oz boneless skinless chicken breast (or cooked and pulled rotisserie chicken)
1/4 tsp kosher salt
1/8 tsp coarsely ground black pepper
1/2 cup heavy cream
1/2 tp lemon juice
Pinch nutmeg
1 cup packed fresh spinach (optional)
5-6 large fresh basil leaves (optional)
1/2 cup grated parmesan cheese (plus more for topping)
Number of Servings
Equipment
2 quart pot
10 inch saucepan
Sharp knife
Large spoon or spatula
Do-Aheads
Cut raw chicken into 1" pieces
Additional Notes
We don't have any notes yet for this receipe, but check back… you never know!