Chewy On-the-Run Breakfast Bars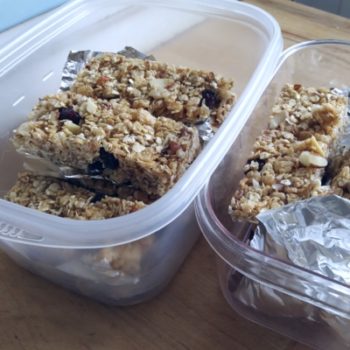 Chewy-crispy granola-type bars with oatmeal, almonds, dried cranberries, and chocolate. Fast to make, faster to eat! Easy to grab as you head out the door, or to pack in your kid's lunch bag.
On mobile? Click "Listen in browser".
Difficulty Level
Easy
Hard
Needed Items
Durations
15 minutes hands-on
2 hours in the fridge
Ingredients
6 Tablespoons butter (unsalted or salted)
1/3 cup dark brown sugar
1/4 cup Agave syrup
2 Tablespoons honey
1 1/2 teaspoons vanilla extract
Heaping 1/8 teaspoon salt
2 cups quick-cooking/instant oats (do not use regular old-fashioned oats)
1 3/4 cups crispy rice cereal
1/2 cup sliced almonds
1/4 cup flax meal, wheat germ, or graham cracker crumbs
2/3 cup dried cranberries
1/3 to 1/2 cup chocolate chips
Number of Servings
Equipment
9x13" baking pan
Aluminum foil
Large pot
Rubber or silicone spatula
Non-stick cooking spray
Do-Aheads
Measure out your ingredients (or at least the major ones) ahead of time. This comes together quickly, and the cooking process will be much easier if everything is prepped in advance.
If you are using a dried fruit other than cranberries or raisins, chop them into raisin-size pieces.
Additional Notes
It's fine to use ALL honey instead of the Agave.
This recipe is adapted from Jennifer Segal's Chewy Chocolate Chip Granola Bars. Thanks, Jennifer!