Chewy Ginger Molasses Cookies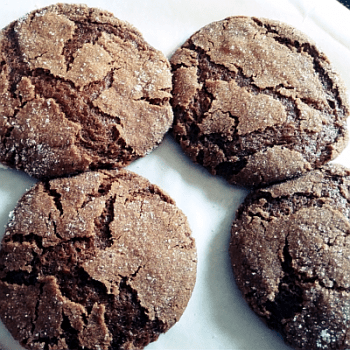 Chewy cookies, rich with ginger and molasses. Comfort food at its sweetest. This recipe comes from an artisan bakery, and these cookies will fill in the blank next to your coffee or milk any time of year.
On mobile? Click "Listen in browser".
Difficulty Level
Easy
Hard
Needed Items
Durations
20 minutes prep
15-30 minutes baking (per sheet)
Ingredients
1/2 cup unsalted (or salted) butter
1 cup granulated sugar plus 1/4 cup for rolling (divided)
1/4 cup molasses
1 egg
2 cups all-purpose flour
2 teaspoons baking soda
Pinch of salt
1/2 teaspoon ground cinnamon
1/2 teaspoon ground cloves
2 1/2 teaspoons ground ginger
Number of Servings
Equipment
Cookie sheet(s)
Parchment paper
Electric mixer
Do-Aheads
Preheat oven to 300°
Line two cookie sheets with parchment paper
Additional Notes
Ping-pong-sized balls of cookie dough needed to be cooked for 16 minutes in my oven. Start checking at 12 minutes.
If you are making really big cookies, start checking them at 20 minutes, but they'll probably need almost 30 minutes.
Read the blog about this recipe