Broiled Tomato Sandwich : Let Your Garden Tomatoes Shine!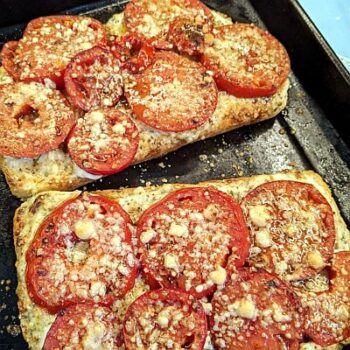 This is a fabulous way to indulge in your fresh summer tomatoes. It's very simple and super tasty, with parmesan cheese and dried herbs to complement the fresh tomato flavor you love.
On mobile? Click "Listen in browser".
Difficulty Level
Easy
Hard
Needed Items
Durations
Ingredients
2 Tbsp olive oil
2 Tbsp balsamic vinegar
2-4 ripe summer tomatoes
3 Tbsp mayonnaise
1/2 tsp dried parsley
1/4 tsp dried oregano
1/4 tsp black pepper
3 Tbsp grated Parmesan cheese
2-4 slices bread
Number of Servings
Equipment
Shallow bowl
Small bowl
Baking sheet
Do-Aheads
Slice the tomatoes
Toast the bread
Preheat your oven broiler
Additional Notes
Thanks to Allrecipes.com for this amazing sandwich!
We don't have any notes yet for this receipe, but check back… you never know!