Best Potato Salad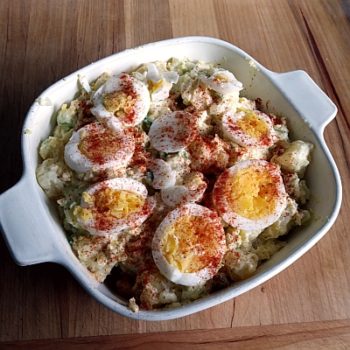 This is easy-to-make and simply seasoned, with the classic flavors we love to find in potato salad. Exactly what you'd expect from a traditional potato salad like you'd get from the deli or grocery store, only better, and homemade.
On mobile? Click "Listen in browser".
Difficulty Level
Easy
Hard
Needed Items
Durations
15 minutes cooking
30 minutes resting
15 minutes chopping
10 minutes mixing
1 hour chilling
Ingredients
6 medium potatoes (Yukon Golds are the yummiest, but any kind will do)
3 Tablespoons white vinegar
2 large celery stalks
6 green onions
5 hard boiled eggs
1 1/2 cups Miracle Whip or mayonnaise
1 Tablespoon yellow mustard
1 1/2 teaspoons celery seed
Salt & pepper, to taste
Paprika, for garnish
Number of Servings
Equipment
Medium saucepan (for eggs)
Large pot (for potatoes)
Sharp knife
Medium bowl
Large serving bowl
Do-Aheads
Additional Notes
In the podcast, I suggest using large potatoes. That will make a LOT! I recommend using medium potatoes instead.
From foodiecrush.com, handed down from Grandma.
For a refreshingly different potato salad, try this.