Best & Juiciest Grilled Chicken Breasts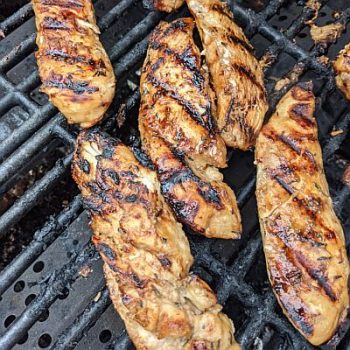 Here's the recipe that will earn the envy of all your grilling friends and relatives. More juicy and flavorful than any chicken breasts you've ever made, and no one says you have to share the recipe....
On mobile? Click "Listen in browser".
Difficulty Level
Easy
Hard
Needed Items
Durations
Making the marinade: 8 minutes
Marinade time: 1 - 48 hrs
Cooking time: 15-20 minutes
Ingredients
6-8 boneless skinless chicken breasts
1/4 cup soy sauce (or Bragg's Liquid Aminos)
1/4 cup balsamic vinegar
2 Tbsp olive oil
2 Tbsp brown sugar, packed
1 Tbsp Worchestershire sauce
1 Tbsp dijon mustard
1 tsp dried thyme
2-3 garlic cloves
Juice of one lime (1 1/2 - 2 Tbsp)
Large handful of chopped parsley (optional)
Number of Servings
Equipment
Resealable 1 gallon plastic bag
Gas or charcoal grill
Do-Aheads
If your chicken breasts are frozen, you'll need to completely defrost them before you start.