Baked Cinnamon Roll Oatmeal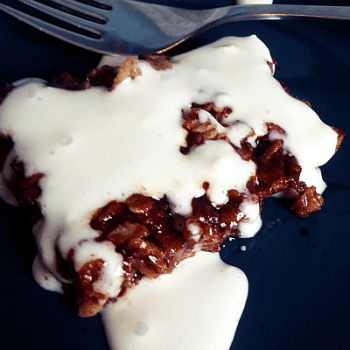 AMAZING cinnamon-roll-flavored oatmeal-on-a-plate, baked in the oven to be a warm, sweet, comforting, breakfast without wheat or gluten. (Complete with cream cheese frosting!)
On mobile? Click "Listen in browser".
Difficulty Level
Easy
Hard
Needed Items
Durations
Ingredients
2 cups milk (of your choice)
2 cups old-fashioned oats
1 large egg
4 Tbsp brown sugar
2 Tbsp butter, melted
1 1/2 tsp cinnamon
1 tsp vanilla extract
1/2 tsp salt
1/2 tsp baking powder

Cinnamon Drizzle:
1/3 cup brown sugar
4 Tbsp butter, melted
1 Tbsp cinnamon

Cream Cheese drizzle:
1/2 cup powdered sugar
4 oz (1/2 package) cream cheese, softened
2 Tbsp milk (of your choice)
Number of Servings
Equipment
9x13" pan
2 largish bowls
Whisk
Cooking spray
Do-Aheads
Preheat oven to 375°
Spray 9x13" pan with cooking spray
Set cream cheese out to soften
Melt 2 Tbsp of butter
Additional Notes
We don't have any notes yet for this receipe, but check back… you never know!