Baked Cheesy Chicken & Rice : A Cookalong Podcast Quick Bite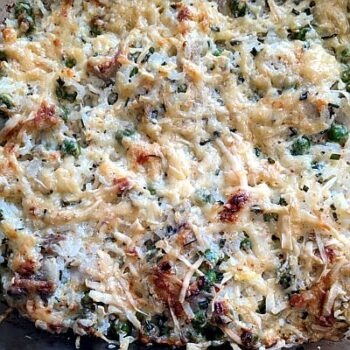 One of my favorite fast and easy complete dinner dishes LOADED with sharp cheese, with chicken, peas, sour cream, and white rice. Irresistible!
On mobile? Click "Listen in browser".
Difficulty Level
Easy
Hard
Needed Items
Durations
20 minutes to make rice (or 2 minutes)
10 minutes to make chicken (or 5 minutes)
10 minutes prep
20 minutes baking
Total time: 35-60 minutes
Ingredients
2/3 cup dry long grain white rice
1 1/3 cup water
1 1/4 cup shredded aged gouda or other sharp cheese
1/2 cup frozen peas
4-6 oz. sauteed or rotisserie chicken
1/3 cup chopped chives
3/4 cup sour cream
1 Tbsp butter plus more for greasing pan
Tajin (optional)
Salt & pepper
Number of Servings
Equipment
Medium bowl
Cheese shredded
Saucepan with glass lid (if making rice from scratch)
8x8" baking pan
Do-Aheads
Preheat oven to 450°
Shred cheese
Chop chicken
Chop chives
Make or heat rice
Butter baking pan
Additional Notes
This is a great way to use leftover white rice!

Here are the measurements for a meatless side dish version:
3 cups cooked white rice
1 1/4 cups shredded aged gouda
3/4 cup sour cream
1/3 cup chopped chives
1 Tbsp butter plus more for greasing pan
Salt & Pepper