Ambrosia Lemon Bars with Guest Chef Horatio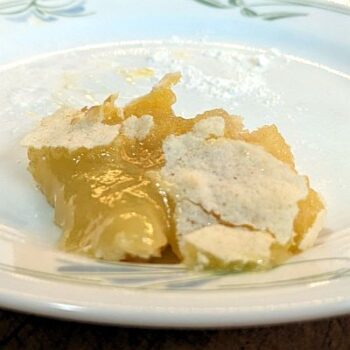 This is a SUPER lemony version of the classic, with a few very different twists in their creation. More filling than crust, with a thin, crackly top. Very tart, very rich, very gooey, and very wonderful!
On mobile? Click "Listen in browser".
Difficulty Level
Easy
Hard
Needed Items
Durations
Crust: 10 minutes
Filling: 10 minutes
First baking: 15 minutes
First cooling: 15 minutes
Second baking: 20-30 minutes
Second cooling: 20 minutes
TOTAL: 1 hr, 20 min
Ingredients
1/2 cup butter
4 cups powdered sugar
3 cups all-purpose flour
3 cups granulated sugar
6 Tbsp all-purpose flour
Juice and zest of 3 lemons
1 1/2 tsp baking powder
6 eggs
Number of Servings
Equipment
Large bowl
Medium bowl
Food processor or pastry blender
Juicer
Zester
12"x17" baking sheet with tall-ish sides
Do-Aheads
Set butter out to soften
Preheat oven to 350°
Zest lemons
Juice lemons (you'll need about 3/4 cup of juice)
Beat eggs
Additional Notes
We don't have any notes yet for this recipe, but check back… you never know!