Almond Addiction : Sweet & Salty Crunch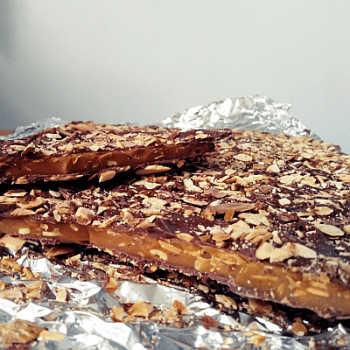 Once your friends and family have tasted this chocolate-almond toffee candy, they will never look at you the same way. There will always be a little glint in their eye, wondering when you will make them more of this addictive treat and how much they will get.
On mobile? Click "Listen in browser".
Difficulty Level
Easy
Hard
Needed Items
Durations
15 minutes prep
20 minutes cooking time
Two 45-minute waiting times, each followed by 5 minutes hands on
Total time: About 2 1/4 hours
Ingredients
1 cup butter (2 sticks–NOT MARGARINE)
1 1/3 cups granulated sugar
1 tablespoon light corn syrup
3 tablespoons water
1 3/4 cups toasted almonds*, chopped, divided
8 ounces milk chocolate chips, divided
Number of Servings
Well, hard to predict, because people usually eat more than they plan to. This makes about 2 1/2 pounds.
Equipment
9×13 pan
foil
2-3 qt saucepan
Oven
candy thermometer
wood or silicone spoon
Microwave oven or double boiler
Do-Aheads
Preheat oven to 375°
Line 9×13 pan with foil, leaving foil "handles" to extend beyond both ends of the pan
Measure sliced almonds, spread them onto a cookie sheet, and toast in 375° oven 5-8 minutes, then chop or smash into coarse bits. (Then turn off the oven.)
Measure all ingredients into separate bowls ahead of time. More info on this in the podcast!