Guiltless Crackers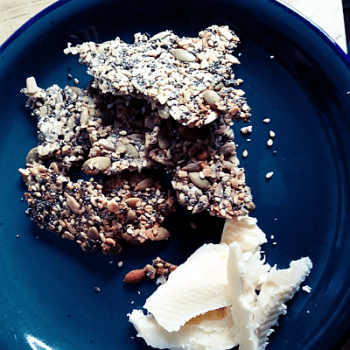 Lightly sweet crackers made of roasted seeds and grains. Gluten-free, wheat-free, dairy-free, soy-free, vegan, no processed sugar, and quite tasty. Friends will ask for the recipe.
On mobile? Click "Listen in browser".
Difficulty Level
Easy
Hard
Needed Items
Durations
10 minutes hands on
20 minutes resting
45 minutes baking
Ingredients
1 cup old-fashioned oats
3/4 cup raw pumpkin seeds
1/3 cup raw sunflower seeds
1/3 cup sesame seeds
3 Tbsp chia seeds
3 Tbsp poppy seeds
1 tsp kosher salt
4 tsp vegetable oil
1 Tbsp pure maple syrup
3/4 cup room temperature water
Number of Servings
Equipment
Two cookie sheets
Parchment paper
Bowls
Rolling pin
Do-Aheads
Additional Notes
We don't have any notes yet for this receipe, but check back… you never know!