Fast 'n' Gooey Double-Chocolate Brownies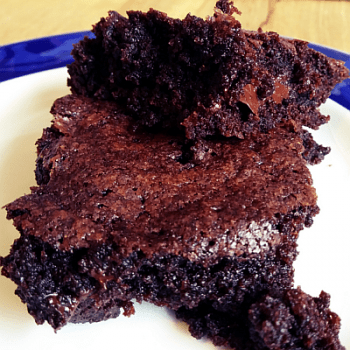 Chewy on the edges, a little crispy on the top, gooey in the middle and very, very chocolate. These are brownies for the chocolate lover who eats half a tray at a time.
On mobile? Click "Listen in browser".
Difficulty Level
Easy
Hard
Needed Items
Durations
8 minutes prep
25-28 minutes baking
Ingredients
1 cup granulated sugar
1/3 cup unsweetened cocoa powder
1/2 cup all-purpose flour
1/4 tsp salt
1/4 tsp baking powder
1/2 cup butter
2 eggs
1 tsp vanilla extract
1/3 - 1/2 cup chocolate chips or chunks
1 cup mini marshmallows -- OPTIONAL (see notes below)
Number of Servings
Equipment
2 bowls
Fine mesh sieve (or sifter)
Whisk
Spatula
8x8 baking pan
Cooking spray
Do-Aheads
Melt the butter and set aside to cool
Allow eggs to come to room temperature
Spray the baking pan with cooking spray
Preheat oven to 350°
Additional Notes
This is not in the podcast, because I discovered it later:
If you want all the squares to be a little chewy, instead of just the edges, add 1 cup mini-marshmallows to the dry ingredients. The last three photos show this addition.
This one additional ingredient takes these over the top, especially when they're still warm.